Phantom of the Opera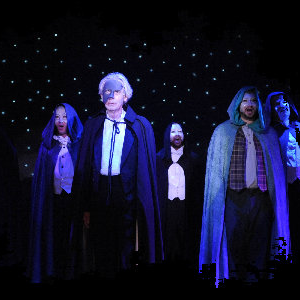 Reviews
Intermission
Review by: Peggy Conkling
Toby Orenstein's original musical adaptation of PHANTOM OF THE OPERA is the culmination of a real labor of love and collaborative effort of enormous talents: with Michael Tilford (author), Tom Alonso (composer/lyricist), Ilona Kessel (choreographer), musical director Ross Scott Rawlings, set designer Tom Width and costumers Sally Burke and Jane Shaffer. It was a year long brainstorming session, going for inspiration to the turn-of-the-century Gaston Leroux horror classic and delving hard to come up with their unique theme -- the focus being psychological shaping of the Phantom's character going back to early childhood. They wisely chose a courtroom drama device enabling flashbacks to move the story along in the intimate dinner theatre in the round setting, with scenic designs cleverly maximizing their space, lighting and costumes. The masquerade ball sequence is well worth the admission price all by itself! Absolutely mind blowing.
The clever opening with entire ensemble wearing masks -- reminding us that everyone at one time or another during life and living "wears a mask" -- is a clever introduction. And, yes, there is a crashing chandelier! Wisely they decided to go their own route and eliminate lakes alight with candles.
Braxton Peters is fabulous as the opera house phantom who is totally obsessed with lovely April Harr as his protégé and romantic ideal Christine. Peters and Harr possess voices that must be heard to be believed. She has never studied voice and he is a voice teacher! Scenes from FAUST are sung wonderfully by Joseph Myering and James Huesz. Jane C. Boyle is easy to "hate" in the nasty role of Carlotta/Margarita. Stephen F. Schmidt has the romantic lead of Raoul de Chagny. Schmidt and Harr share a great duet "Leaving for the World". There are some fabulous songs; five star must go to "The Prison Song" (Faust) as done by Margarita, Faust and Mephistopheles. The Phantom has "The Love You Never Had", in which to shine. I hate to give away too much in advance, but this production sports two phantoms: and they give him a name, Eric. "A Room Full of Shadows" sung by The Phantom, Young Phantom and Their Mother makes for quite a scene all by itself.
Toby's setting for the PHANTOM OF THE OPERA is in a French Court of Inquiry, late 1882; and thus the pieces of the puzzle which make up this wonderful tale unfold. PHANTOM OF THE OPERA is one of those tales that is subject to interpretation limited only by talent and imagination. TOBY'S DINNER THEATER does not lack for talent, imagination, great voices, wonderful theatrics and everything to make your evening truly wondrous.
Treat yourself to a unique and surprising experience - PHANTOM OF THE OPERA, an original musical adaptation which will be on cassette tape and compact disc with the original cast, all proceeds to Howard County AIDS Alliance -- A Labor of Love!!!
--
The Columbia Flier
Review by: John Harding, June 4, 1992, pg. 80
Haunting musical: Toby brings life to an ambitious new 'Phantom'
If Andrew Lloyd Webber's "Phantom of the Opera" can be a world-wide box-office sensation, the new "Phantom of the Opera" getting its world premiere at Toby's Dinner Theatre in Columbia, deserves to be hailed as an artistic milestone in our corner of the world.
This startlingly assured interpretation of the popular Gaston Leroux fantasy represents another innovative move by local impresario Toby Orenstein toward reclaiming American musical theater as a regional resource.
The same things that have attracted eight decades of readers, filmmakers, adaptors, stage producers and directors to Leroux' 1910 pulp novel have now attracted Orenstein, who commissioned the new musicalization from two rising Howard County creative talents. Composer-lyricist Tom Alonso and dramatist Michael Tilford here ably demonstrate their own feeling for the material's inherent theatricality and romantic appeal.
One is tempted to call their creation a triumphant journeyman effort - but that would be selling short both their artistic reach and their grasp.
Tilford's framing of the story as a morality take and his use of a courtroom inquiry into the play's events as a way of underscoring its mystery elements pay dividends and ensure our attention throughout. Alonso's music and lyrics are ceaselessly (one might say restlessly) inventive, wisely sidestepping the facile and the shopworn at every juncture.
If there's an absence of big-voiced male actors in other area stages this summer, blame director Orenstein, who has seemingly cornered the market on strong leading men for this production. Not only does she bring us Braxton Peters' rich baritone in the role of The Phantom , but Stephen F. Schmidt (from "It's a Wonderful Life") as Raoul, Bill Krause as Persian, and James Huesz and Joseph Myering as a pair of company opera singers.
Local favorite April Harr lends an angelic presence, both vocally and visually, as Christine. Harr comports herself like a genuine Broadway ingénue at this point, while sweetly delivering all the vocal curlicues and emotional flourishes provided by Alonso and Tilford.
The Act II duet by Harr and Schmidt, "Leaving for the World," is easily the show's melodic and romantic highlight. But there are many other standout musical moments as well, including Peters' regret-filled "The Love You Never Had" solo, the rueful "A Room Full of Shadows" composition for three voices and the ensemble number "In a Whisper."
None of this is to say though, that this "Phantom" could be uprooted and plopped down on virtually any other professional stage to instant acclaim. Indeed, some of the same elements that tripped up Webber and his collaborators plague the present adaptation.
The new version doesn't waste nearly so much time as Webber's did on the backstage travails of the opera house personnel, which is all to the good. There's even some effort to fill in the backgrounds of the principals. But there's still a measure of unnecessary confusion in this telling.
The play's action begins in mid-performance of a production of "Faust" in an 1882 French Opera house. A suicide by hanging disrupts the performance, sending the audience out and apparently inflaming the superstitions of the company ("Do You Believe in Ghosts?"). But having the company almost instantly forget the hanging corpse to gossip about spooks among themselves, and then to have the corpse facetiously interjecting asides make us doubt the events we are seeing at a time when suspension of disbelief should be a top priority.
Many of the lyrics in this opening segment are hard to decipher through the din, but there's evidence of wit, as when a vain actor steps forward to object to the hanging as a rather coarse attempt to steal the spotlight from him.
As the French Court of Inquiry randomly calls witnesses, it becomes clear that that testimony, interweaved with the play's action is being used more to introduce information than to probe the situation of the principals. (Such courtroom queries as "What did you do after that?" and "What did the letter say?" are clearly serving a more expository than revelatory function.) Indeed, the witnesses are never asked the obvious questions. Christine's failure to tell authorities of the two male visitors to her dressing room on the night of the incident also seems more convenient for the storytellers than appropriate for the traumatized heroine.
That may be partly explained by the fact that Christine, as in Webber's telling, is already under the spell of the masked Phantom - who here comes across not so much as an omnipotent sexual threat as a sort of homeless Italian vocal coach. He takes Christine to his underground lair, teaches her new music and trails her to a masquerade ball, while Christine's long-lost childhood suitor, Raoul, reappears to make a more conventional bid for her affections.
Webber's "Phantom" kept its opera-house denizen so enigmatic that we couldn't be sure if he was mortal or supernatural. For all we could tell, he was a figment of Christine's Victorian fantasies, and anyone in the audience so included could read into that whatever secret desire it took to arrive at a satisfying catharsis. (How else to explain the fanatical devotion that some fans invest in the show and its succession of faceless leading men?)
Tilford's adaptation attempts to paint The Phantom as a disfigured innocent who grew progressively darker and more disturbed in time. There's a potentially moving dream sequence in which he even confronts the boy he was. But the revelations don't as yet help us sympathize with his obsession with Christine. We should feel the poignance of his misdirected campaign to win his lady love, but the emphasis falls too heavily on The Phantom's all-consuming self-pity.
In general, the whole show at this point is too high-pitched, too overwrought and agitated. There's hardly a quiet moment to balance out all the ear-pummeling activity. And the promising courtroom device simply has to be employed to more direct textual advantage.
Don't misunderstand: If you care about musical theater at all, or about grassroots regional theater, you should be delighted with this show. Whatever its shortcomings, it mesmerizes and enthralls, much more so than Toby's last commissioned original, "It's a Wonderful Life." As an accomplishment it surpasses anything I really expected to find.
It wants to be "Sweeny Todd," to walk the thin line between gutter melodrama and high art, and at times it does. There's much more to commend just now, however, than to wholeheartedly recommend. It still must learn how to engage an audience at the most basic human level of sympathy and compassion. If it can do that, it will beat Webber at his own game, and the theater world will be a "Phantom" richer.
--
The Evening Sun Reviewed by: Winifred Walsh Toby's new 'Phantom' features outstanding music, choreography
The new, original musical adaptation of Gaston Leroux's haunting novel, "Phantom of the Opera" playing at Toby's Dinner Theatre in Columbia through Sept. 20, has a host of excellent production values going for it.
First there is the exceptional music composed by Tom Alonso, who also wrote the incisive and clever lyrics for this timeless turn-of-the century romantic tragedy. The music, performed live, is under the stirring direction of Ross Scott Rawlings.
Director, Toby Orenstein's staging - in the round - is exceptional, and her cast, headed by Braxton Peters (as the Phantom), April Harr, and Stephen F. Schmidt, is superb. Most of the voices are glorious in the true classical music sense. Joseph Myering and James Huesz are splendid in scenes from the opera "Faust," which playwright Michael Tilford has inserted into his adaptation.
The innovative, fast-spinning choreography by Ilona Kessell and the colorful costumes by Sally Burke (especially the masquerade Ball outfits) add to the show's quality elements.
Peter's wonderfully rich baritone lends poignancy to Alonso's songs: "The Love You Never Had," "Skin Deep" and "In a Whisper" (sung with Harr and Schmidt).
Other outstanding numbers include the snappy ensemble piece "Do You Believe in Ghosts?" and the serious ballad "Behind Every Door," admirably sung by Schmidt.
The story of Eric, the musical genius who was born terribly disfigured and remained unloved - even by his mother - all his life, unfolds in a French Court of Inquiry in 1882. Horrible crimes have been committed at the Paris Opera House, where Eric dwells in the building's subterranean depths.
In a series of flashbacks, members of the Paris Opera company come forth to testify about the strange happenings taking place in the elegant, old building.
Music is everything to Eric. Ion one tender scene flashed back to Eric's isolated childhood, Peters is able to reach out to himself as a young boy (Abby Margulis) in the moving rendition of "A Room Full of Shadows."
Eric is hopelessly in love with a fledging operatic singer, Christine, whom he helps to stardom as her mysterious - and bloody - "Angel of Music."
But Christine is in love with a nobleman named Raoul, and the phantom fails again in his desperate quest for love.
The flaw in this otherwise technically impeccable production lies in Tilford's script, which lacks real cohesive structure.
The playwright plays too much for laughs. It seems as if the writer cannot make up his mind whether he wanted to write a comic opera or a heavy melodrama.
It all lacks the proper mysticism and vital suspense. Too much attention is devoted to the legitimate operatic scenes and comical numbers and not enough to the serious staging of the original novel. The beginning scenes jump headlong into the story without explanation, which leads to audience confusion.
Also, Tilford exposes the Phantom in the unnecessary prologue. The Phantom should always be dramatically highlighted, a mysterious figure caught in half light, accompanied by his own music.
We should see the Phantom's lair in the first act and hear his anguished pounding on the organ throughout. The audience never senses his danger or feels his pain.
Fine support is given by Bill Krause, Michael J. Isenstock, Jane C. Boyle, Kim M. Garrison, Ann Alexander, and the entire ensemble.